Jeremy Corbyn has said he will not lead Labour into the next election, following a "very disappointing night" for his party.
He said he would stay on as leader during a "process of reflection" on the result, which a BBC forecast says would be its worst in decades.
He added that "popular" policies in the party's manifesto had been "overridden" by the issue of Brexit.
But others within Labour blamed his leadership.
In early results, Labour have lost a string of former strongholds in the north of England and Wales in areas that voted Leave in the 2016 EU referendum.
A BBC forecast has put Labour on 196 seats. The final result is expected to be known by Friday lunchtime.
LIVE: Latest as Conservatives gain in Labour heartlands
Shadow environment secretary Sue Hayman has become the first member of Labour's frontbench to lose her seat - as the Conservatives took Workington, a traditionally Labour seat that came to typify Brexit-backing areas targeted by the Tories in their campaign.
Labour's shadow Brexit minister Jenny Chapman has also lost to the Tories in Darlington, another constituency that backed Brexit in 2016.
During the campaign, Labour promised to renegotiate Prime Minister Boris Johnson's Brexit deal with the EU, and then put it to a referendum vote alongside the option of remaining in the EU.
That position could come under criticism, with the exit poll suggesting Labour would lose a number of seats to the Conservatives in areas that voted to Leave during the 2016 referendum.
Shadow home secretary Diane Abbott tweeted Labour was in for a "bad night", but the party would still need a leadership that "fights for the many, not the few":
Speaking to the BBC, Mr McDonnell said if the exit poll is correct, it would be an "extremely disappointing" result for his party.
"I thought it would be closer. I think most people thought the polls were narrowing," he said.
He added that he did not think Mr Corbyn's leadership of the party was "the big issue" of the campaign, but rather the issue of Brexit had "dominated".
Asked if Mr Corbyn should resign if the prediction is borne out, he said "appropriate decisions" would be taken when the results were in.
If you cannot see the graphic above, click here.
Gareth Snell, current Labour MP for Leave-backing Stoke-on-Trent Central, said the exit poll was a "catastrophe" for his party, adding that he expected to lose his seat when the result was declared.
He said the party leadership was responsible for Labour's predicted losses, and called for both Mr Corbyn and Mr McDonnell to quit.
He accused senior figures in the shadow cabinet who are defending Remain-voting seats in London of "sacrificing" candidates in marginal constituencies in the Midlands and the north of England.
Party chairman Ian Lavery criticised the party's strategy of promising another Brexit referendum, saying it had led voters in traditional Labour seats to believe it was "a Remain party".
"They believe they should have been listened to - and they think that the Labour party have totally reneged on the result," he added.
But he added the strategy was not "Jeremy Corbyn's decision," as it had been approved by delegates at the party's September conference.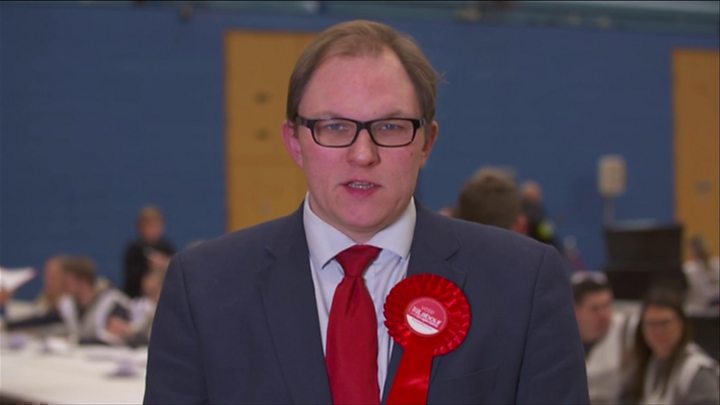 Phil Wilson, Labour's candidate in Sedgefield - a Brexit-backing Tory target seat and ex-PM Tony Blair's former constituency - said: "To blame Brexit for the result is mendacious nonsense."
"Jeremy Corbyn's leadership was a bigger problem. To say otherwise is delusional," he added on Twitter.
"The party's leadership went down like a lead balloon on the doorstep."
'Worse than useless'
Likewise Ian Murray, Labour's candidate in Edinburgh South, tweeted: "Every door I knocked on, and my team and I spoke to 11,000 people, mentioned Corbyn."
"Not Brexit but Corbyn. I've been saying this for years. The outcome is that we've let the country down and we must change course and fast."
Former Labour home secretary Alan Johnson told ITV News: "It's Corbyn. We knew that in Parliament."
"We knew he was incapable of leading, we knew he was worse than useless at all the qualities you need to lead a political party."
Read this on WNG BBC